Know Your Neighbor: Victor Madubuko, Human Resources Development, Bedford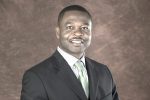 It had always been Victor Madubuko's dream to work at the World Trade Center, from the time his uncle sent him a postcard of the soaring twin towers.
To Madubuko, born and raised in Nigeria, the skyscrapers represented both an international crossroad and the American Dream that he sought to be part of once he arrived to study in the United States in 1998.
He interviewed at the trade center for a job in the human resources department of the Port Authority of New York and New Jersey in the summer of 2001, and was offered a position on the 64th floor of the North Tower.
"I felt that if I can interview for a job (at the World Trade Center), even if I didn't get the job I realized my dream and I could get another job," Madubuko said. "I was excited that I got the job. Little did I know I could have died."
Madubuko escaped the burning towers on September 11, 2001. The horrific events he witnessed will always be emblazoned in his memory, but he has channeled his efforts to work hard and help others. He spent another five years with the Port Authority in Manhattan, rising to become a human resources business partner, a director's position.
"In the span of five years I went from being an intern to a director, and that is what I realized about the United States," Madubuko said. "If you put in hard work you will succeed. That is not true, that is not true in any other country."
For the past 10 years, Madubuko, 44, who lives in Bedford with his wife and five children, has been the CEO and managing partner of CareerNation, a firm with offices in White Plains and Manhattan that helps corporations and organizations throughout the United States and Africa recruit diverse talent for their operations.
Before CareerNation, he had a stint as director of talent management for Equinox fitness clubs during their expansion efforts.
During that job, he was approached by a South African-based company to help recruit South Africans in the United States to join their ranks.
By the time Madubuko had come to New York to earn his master's degree at the New School University in organization development he had already experienced adventure and success.
He left his native Nigeria shortly after finishing high school when he was awarded a scholarship to the People's Friendship University in Moscow to study law in 1993.
While there, Madubuko noticed that the few people of African descent in Russia, many of whom were related to diplomats, had no place to get their hair cut or styled. From his dorm room, Madubuko started a hair styling business. He was forced to rent an off-site location after health authorities objected to him operating in a dorm.
But there was something he didn't expect – native Russians becoming part of his regular clientele.
"People in Russia wanted to have African braids and we were shocked by the amount of demand that we were getting," said Madubuko, who also opened a second business, a restaurant featuring African cuisine while studying in Moscow.
One of the challenges he faced was obtaining the proper creams and gels for the salon. So Madubuko came to New York to buy supplies. That is when he first got the idea about returning at some point.
By 1998, he was accepted into the New School University program, and shortly after he interned as a corporate recruit for Con Edison in Connecticut, which launched him on his human resources career.
Today with CareerNation, he works with various international companies. His clients also include New York Medical College and Yale School of Management.
"I would never have believed I would have the opportunity to be in the United States with my children, with my family," said Madubuko, who is fluent in five languages.
Madubuko, keenly aware of his good fortune, is a strong believer in giving back to the community through volunteering. He has worked with Big Brothers, Big Sisters in Westchester the past few years on its advisory council.
About two years ago Madubuko joined the Mount Kisco Lions Club. The Lions is the same service organization his late father belonged to in Nigeria.
This week he is scheduled to become its president, an honor he said is the best thing to happen to him. He knows his father would be proud.
"I think a great way to be a good American citizen is to start (volunteering) in your community," Madubuko said. "So, I want to work and give back and be a good American."